The British LongBow Society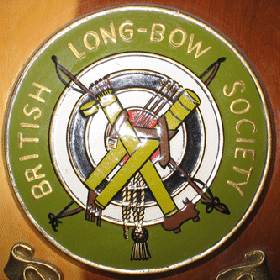 Patron: The Earl of Aylesford
Formed in 1951, when the longbow was fast disappearing from the shooting line, the
Society celebrated its Golden Jubilee in 2001. The Society currently has approaching
2000 members in Great Britain and Worldwide.
The British Long-Bow Society perpetuates the use of the traditional recreational
Longbow for two-way Target and Clout shooting, by arranging Bow Meetings for its
members throughout the British Isles. It endorses a Craft Guild of Traditional Bowyers
and Fletchers who are able to make equipment to the Society's criteria. It assists
a number of clubs and organisations who use the recreational Longbow, and many who
organise their own traditional Bow Meetings to the Society's Rules of Shooting. The
Hon. Membership Secretary maintains a list of "Longbow friendly" clubs which can
only be kept updated if members supply details of such clubs.
Whilst recognising Roving, Hoyles and Field as legitimate forms of archery, the Society
does not itself organise such activities. The Society is not a re-enactment Society.
Bow hunting being illegal in the United Kingdom, the Society does not support this pastime
Firstly: To safeguard and perpetuate the traditions of the English recreational Longbow as shot in during and before 1951.
Secondly: To provide opportunities for members to shoot in the old two-way style, at English Target and Clout rounds, in a pleasant and relaxed manner, for the Society's Awards and Medals.
Thirdly: To encourage the craft and traditional skills associated with traditional bowyery and fletching.
Insurance details are contained in the current Events Guide as published annually by the Society.
Email the Honorary Secretary on ajbedford at hotmail.com and he will send you an application form in pdf format.
Please note that you must provide evidence of having received appropriate training
in archery either through a BL-BS affiliated Club or a GNAS or NFAS Club or provide a Proposer and Seconder who are members of BL-BS and can vouch for your safety as an archer.
All email addresses on this site are shown with @ replaced by "at"